Summary
Fnac is one of the biggest culture and technology suppliers in the World, known as the "meca" for culture enthusiasts and technology addicts, so at Thing Pink, we are fully identified with the brand.
Fnac approached us with the challenge of helping them on the Digital Transformation path. With the goal of always providing the best service to the customer, we have developed the first phase of the Fnac Card app, which dematerializes the physical card, making the whole process simpler, more efficient and convenient for the brand and their customers.
Integrated with Fnac systems and their POS, Fnac Card Members will no longer need to carry the traditional physical card on their wallet. It is all available on this simple and intuitive native app, which allows clients to have access to all their information, accumulate points, redeem discounts, access to Fnac useful informations such as contact center, stores location, support and many more. On top of that, the app also offers exclusive campaigns for Fnac Members.
we've also developed a customized CMS, that allows Fnac marketing team to manage all contents and interact with users.
As Fnac clients, It was a great honor for us to design and develop the app.
Services

iOS

Android

Content Management Systems

UI/UX Design

Wireframes & Prototypes

UX Strategy

Design and Prototyping

Development

Quality Control

See it Live

App Store Google Play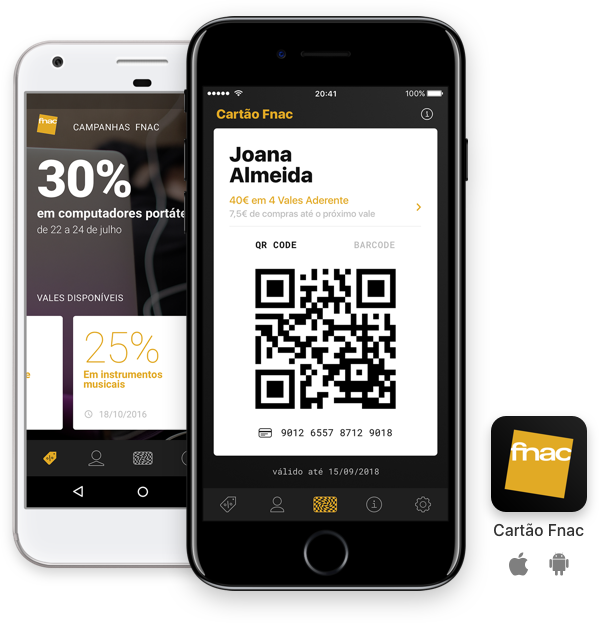 FNAC LOYALTY CARD
---
Now, Fnac Loyalty Card is always with you. What was once a mess in your wallet is now a simple, and easy-to-use app for your smartphone.
SIMPLICITY DEMANDS WORK
---
Loyalty cards are usually more complex than just a card. Lots of burocracy, misunderstandings and tiny little letters in long texts. We partnered with Fnac to offer customers an easier way to use their card.
QUICK AND SAFE LOGIN
---
Fnac Card Members are already registered on Fnac Database. In a few steps, the user is logged in.
EVERYTHING ONE TOUCH AWAY
---
Following both iOS and Android patterns, our effort was to keep the interface simple and familiar to the average Fnac client for easy and fast access.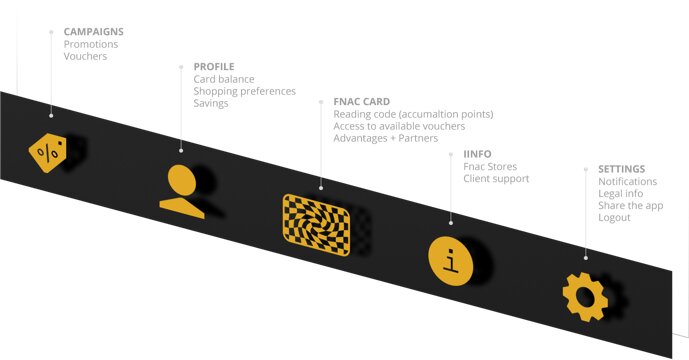 More than just a loyalty card
---
The main goal is the same — easy–to-use and quick access to the card. Shop, use it, done. Plus, it´s now possible to enjoy more of the Fnac universe.

TRACKING CONSUMER PROFILE
---
We turned data to visual information so the client has total control of his expenses, revenue, shopping history and Fnac Profile.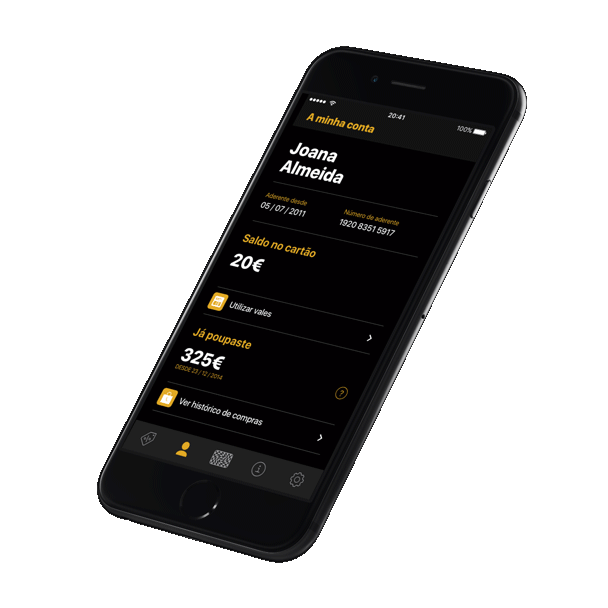 DISCOUNT VOUCHERS
---
Fnac Card owners get discounts for almost anything they buy there. That is transformed into multiple vouchers available through the app.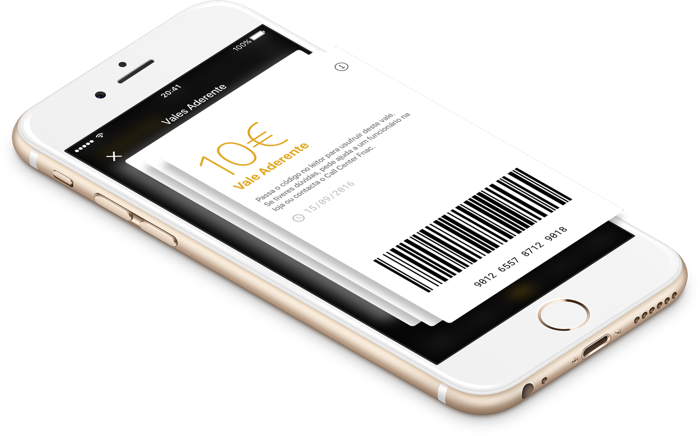 ACCUMULATE POINTS AND GET ALL THE ADVANTAGES
---
A client just needs to tap the center button and show the QR Code on the store POS and it´s done. Also, get immediate access to discount vouchers and all membership advantages. Everything fully integrated.
NEED HELP?
---
Need to find a Fnac Store? Opening hours? Distance?
Or just simply talk to an assistent? Get all you need one touch away.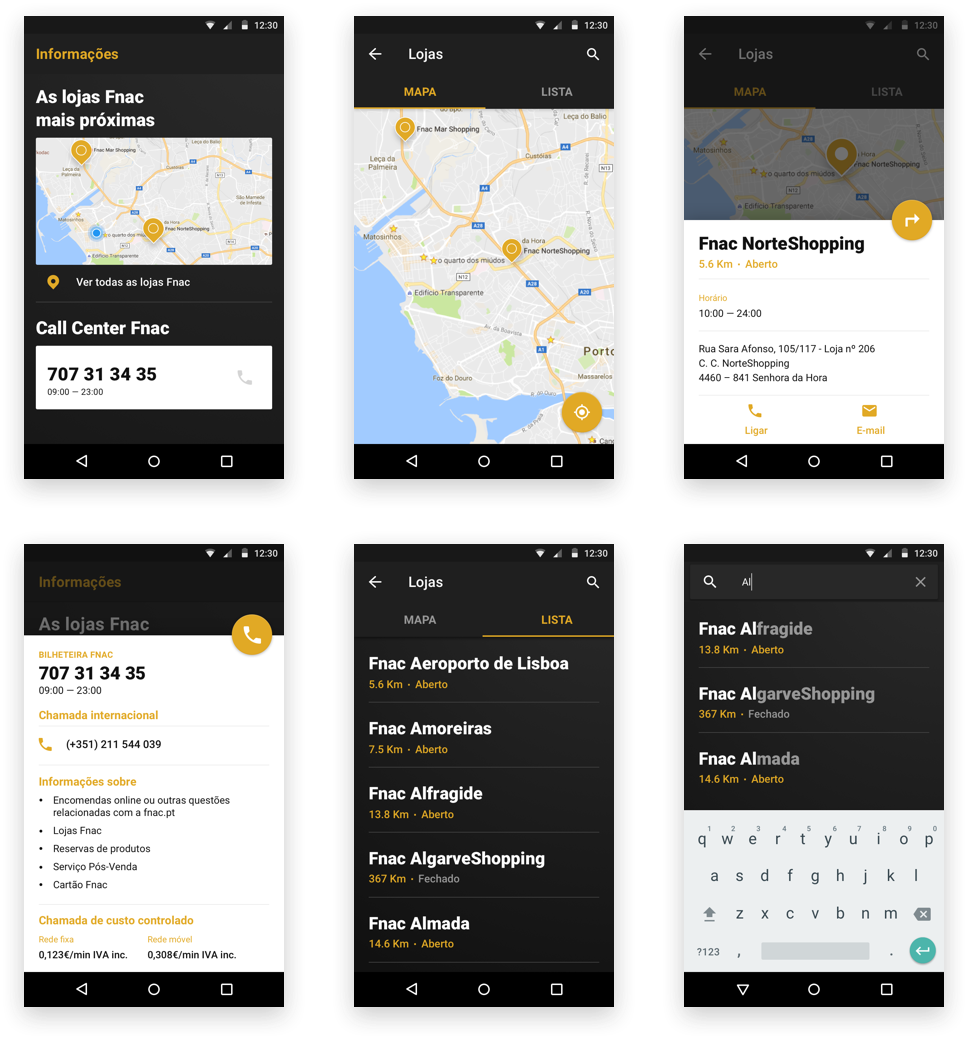 ICONOGRAPHY
---
Custom-made iconography for this app.